Jestem Żydem a Polska jest moją Ojczyzną....
I am a Jew and Poland is my homeland
- these words of Artur Szyk perfectly illustrate his mutually inclusive identities which infused his art for four decades.
As many of you know the Artur Szyk exhibit at the New York Historical Society will be opening on September 15, 2017 and will continue through January 21, 2018. Although this is not a large exhibit, it will give you a clear idea of some aspects of his work.
Artur Szyk was extremely well known during his lifetime - not only for his illumination of the Statut of Kalisz or the Book of Esther - but also for his caricatures of Hitler and Mussolini. He also prepared a number of illustrations which appeared in the Polish Pavilion at the New York World's Fair of 1939.
However, this artist, who had fought by using his art from 1919 through 1945 - is completely unknown (except for specialists or Jewish scholars) in contemporary Poland and barely known in the United States. There are four reasons for this
1- His service in the Polish Army during the Polish Bolshevik War of1919-1920 - vide his anti-Bolshevik poster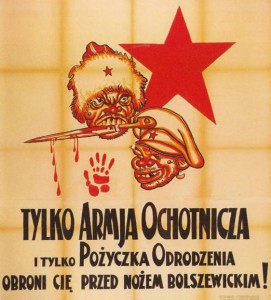 2- His service to Inter-war Poland - both creating illustrations of Piłsudski and the work for the Polish Pavilion (among others)
3- The fact that in the period of 1939-1941, i.e. while the Soviet Union was allied with Germany - he depicted Stalin in that role vide the following depictions of Stalin and Hitler together
(There was a series of illustrations showing Stalin, Hitler, Mussolini and Petain. The second illustration in this group is entitled Poland Greets Her Good Neighbors)
4- The fact that he allied himself with the Polish Government in Exile in London and was sent by them to the US to continue his anti-Hitler work in the US
5- The fact that he did not return to Poland after the war
6- The fact that he supported the creation of the State of Israel
all led to knowledge about him being suppressed in Poland - to the extent that even the director of Muzeum Dworku Paderewskiego did not know that the Paderewski Illustration in the museum was by Szyk (this in 2015!!!)
An illustrated brochure - in both English and Polish, prepared by the Piłsudski Institute and Krystyna Piórkowska will be available at various Polish and Polonia organizations in the New York area - including
the Consulate General of the Republic of Poland

the Polish Cultural Institute

the Kosciuszko Foundation (both New York and Washington,DC locations)

at St. Stanislaus B&M Church (Manhattan)

as well as the Piłsudski Institute in America.
Feel free to stop by any of these locations after September 14th to pick up a copy.... or check at your local Polonia organization to see if they have a copy available.
Do visit the exhibit and to read the brochure which will serve to introduce Artur Szyk.
Congratulations to Irving Ungar, curator of the exhibit.
Consulate General of Poland - Madison Avenue and 37th Street (Jan Karski Corner)
Polish Cultural Institute - 60 East 42nd Street Suite 3000
Kosciuszko Foundation - 15 East 65th Street
St. Stanislaus Church - 101 East 7th Street
Piłsudski Institute of America - 138 Greenpoint Avenue Brooklyn